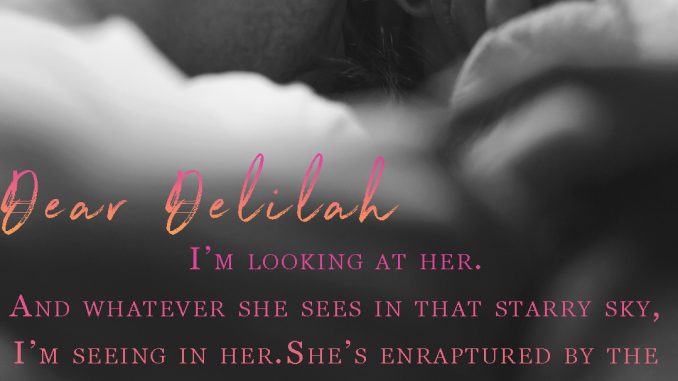 Cover Design: Sommer Stein- Perfect Pear Creative Covers
Release Date: August 17, 2017
Synopsis
It has been said that boys and girls can never be 'just' friends, and until Nathan Penn barged into my life, I thought it was complete and utter nonsense. But one night changed everything, and what I thought was the defining moment in our friendship turned out to be more than either of us were ready for.
When my boss tasks me with writing the University's new sex advice column, Dear Delilah, I make it quite clear that I'm the least qualified person for the job – my experience is limited to one sexual encounter that taught me about love and loss all at once.
So what makes me say 'yes'?
Simple.
A distraction.
Something to take my mind off Nathan.
But once I start, I find myself wanting to be the voice of the girl who's too afraid to ask for advice, the girl who wants to own her sexuality but doesn't know how. Sounds easy enough.
Except it isn't.
It's complicated, and messy and awkward, and when Nathan offers to help, I'm caught between a rock and his hard place. Literally.
It's only when my identity is threatened that I realize I might be in over my head. With all of it.

Giveaway
$20 Amazon Gift Card
Direct Link: http://www.rafflecopter.com/rafl/display/b1257f8d133/?

About the Author
Tamsyn is a writer, reader, aspiring editor and Publishing student from South Africa. When she's not getting lost between the pages of a novel from one of her favorite authors, she's spending time with her family and three fur babies, Denver, BamBam and Benji.
Connect with T. Bester
Newsletter Sign Up: http://bit.ly/2v7AqBe
Facebook Author Page: http://bit.ly/2vZ90Ki
Facebook Reader Group: http://bit.ly/2eMlVM1
Goodreads Author Page: http://bit.ly/2tBeqtW
Twitter: http://bit.ly/2tAZGLJ
Instagram: http://bit.ly/2v6wfWs
Amazon Author Page: http://amzn.to/2eMUySm
BookBub Author Page: http://bit.ly/2i0kpHt