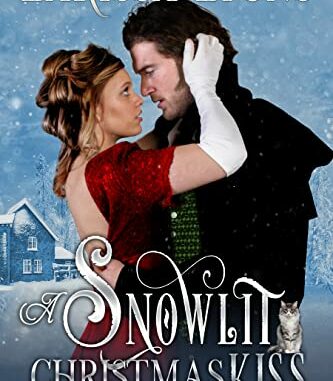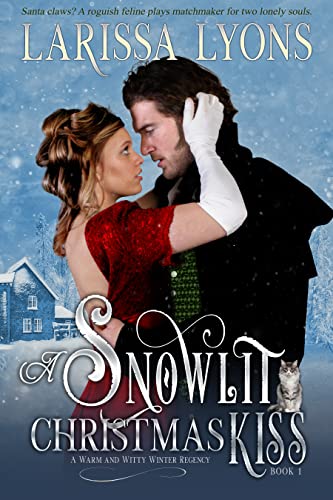 A Snowlit Christmas Kiss
Regency Christmas Kisses
Romance, historical
Literary Madness
December 13, 2022
Kindle, Epub
166
Santa claws? A roguish feline plays matchmaker for two lonely souls.
A mischievous feline and a case of mistaken identity land two lonely souls together during a wretched, snowy night. Arguing over the business end of a shovel, they take refuge from the storm and find that sparks and kisses warm their frigid selves as much as unexpected laughter. But he's engaged, and she's decided to never marry, so in the morning they go their separate ways, leaving pieces of their hearts behind…
Battle scarred and bone-weary, the prodigal Lord Redford finally returns home—intent on pushing everyone away. Only he's greeted not with the small welcome party he expected, but with a house full of people ready to celebrate his engagement. Which is going to prove rather a challenge, given how he's never met his betrothed… Or has he?
When Anne rushes to the door, ready to give her tardy intended a sound dressing down and inform the lout who's ignored her since their betrothal began that she has no use for marriage—or him—she's greeted with a host of surprises.
Merry mistress or marriage? Or mayhap, nothing at all?
A Snowlit Christmas Kiss is a sweet and spicy Regency Christmas extended novella of 40,000 words (with hot kisses and just a bit more).
All Regency Christmas Kisses books are HEA standalones and can be read independently. A Snowlit Christmas Kiss takes place chronologically first, and is followed by A Frosty Christmas KissandA Moonlit Christmas Kiss, which occur at the same time but in different locations.
A cold night they meet and the characters have a great chemistry from the beginning. They both have a problem with their meeting because he is already engaged and she have not thought about marrying.
The fact that they left some of their feelings with each other and that they do not know each other makes the story tell some fun but also intense scenes.
He has a lot of bagage from the war he has come home from and he has to proces this. The girl he is engaged with was his now dead brothers, so he actually does not know her that well.
Sometimes the words felt like some I had not seen before but they worked. Writing style is one you have to get comfortable with.
Nice plot, but as written before the language is an issue at times. The paranormal was not to my liking. Would have been better without it. It does not bring anything to the story.
Recommendable to others.
---