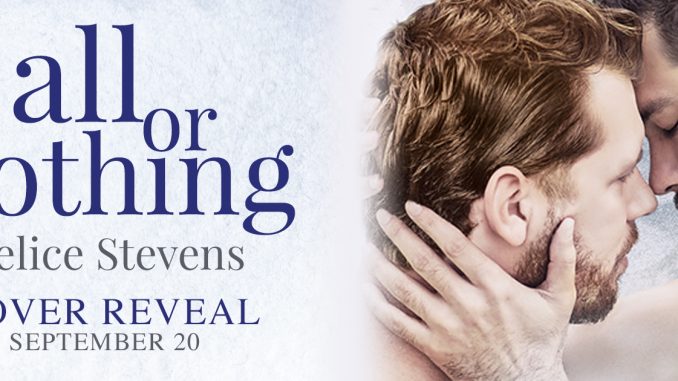 All or Nothing an all-new, steamy MM romance by Felice Stevens is coming October 3rd!
All or Nothing
by Felice Stevens
Publication Date: October 3rd, 2017
Genre: Contemporary MM Romance
Cover Designer: Reese Dante
Photographer: Golden Czermak of FuriousFotog
A past he couldn't forget
Adam Barton is living his dream of working as a firefighter in his small Texas town, but a tragedy from his youth continues to haunt him. He decides New York City is the perfect place to start a new life and joins the FDNY, living and loving his own way—no strings and nothing personal. Until he catches sight of Rico Estevez, the sexy chef with the mysterious smile who rocks his world. After one explosive night together, Adam craves another….And then another. The more he and Rico are together, the more Adam wants him.
A future he never imagined
Rico Estevez is living a lie. For years he's hidden his sexuality, afraid to hurt the career of his politically ambitious father. He's the perfect American―the best schools, top of his class and most importantly, to his father, a successful businessman. Who needs a boyfriend when sex is so easy to find? Starting a torrid love affair with Adam Barton isn't a problem; neither one is looking toward forever. But Rico's father is about to get the chance of a lifetime and Rico feels forced to play by his rules.
Rules are made to be broken
Adam proves more unforgettable than Rico ever imagines, but he gives in to family pressures above personal desire. When a fire reunites them, both men discover their passion for each other hasn't died; rather it's stronger than ever. Want turns to need and something more dangerous to their hearts—love. Adam and Rico know if they want to have it all, they can let no one and nothing stand in their way of a life together.
Start the Series of Standalones Today!
Learning to Love
Amazon US: http://amzn.to/2xgfc3S
Amazon UK: http://amzn.to/2hcRfVr
iBooks: http://apple.co/2pf8WDk
Nook: http://bit.ly/2xtlA8y
Kobo: http://bit.ly/2p28Bal
Add to GoodReads: http://bit.ly/2xMHO6c
The Way to His Heart
Amazon US: http://amzn.to/2ykCN24
Amazon UK: http://amzn.to/2xbyPZ9
iBooks: http://apple.co/2pfbJwB
Nook: http://bit.ly/2x8LSxd
Kobo: http://bit.ly/2osvT6m
Add to GoodReads: http://bit.ly/2hdUCrB
About Felice:
I have always been a romantic at heart. I believe that while life is tough, there is always a happy ending around the corner, My characters have to work for it, however. Like life in NYC, nothing comes easy and that includes love, but getting there is oh so fun and oh so sexy.
I live in New York City with my husband and two children. My day begins with a lot of caffeine and ends with a glass (or two of red wine). I practice law but daydream of a time when I can sit by a beach somewhere and write beautiful stories of men falling in love. Although there are bound to be a few bumps along the way, a Happily Ever After is always guaranteed.
Connect with Felice:
Facebook: https://www.facebook.com/felicestevensauthor/
Twitter: https://twitter.com/FeliceStevens1
Blog: http://caferisque.blogspot.com/?zx=e071df0101ec6c96
Stay up to date with Felice by signing up for her newsletter here:
http://www.felicestevens.com/en/about
Join her Reader Group: https://www.facebook.com/groups/1449289332021166/