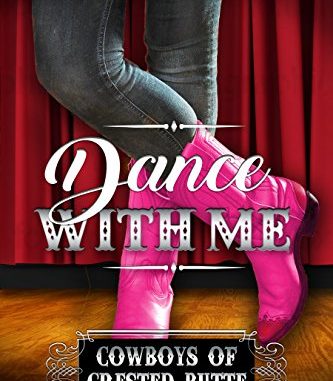 Dance with Me: Cowboys of Crested Butte Book 2 by Heather Slade
Date of Publication: October 2, 2017
Blurb
Wherever he was, Billy owned the air. It belonged to him, and he took it.
Last year saddle bronc rider Billy Patterson reached the pinnacle of success in his sport and had the championship buckle to prove it. He needed that flashy reminder this year, because now nothing seemed to be going right in his world.
He couldn't manage an eight-second ride to save his life; the girl he's wanted forever, his best friend Renie, is oblivious to how he feels about her; and her mother sold him a ranch that he was incapable of taking care of alone. But the worst of it was, with no anchor at the ranch other than her horse in his boarding stable, Renie was probably leaving too, if he couldn't convince her to stay.
That becomes the least of Billy's worries, however, when he suddenly becomes a single parent to a child he didn't even know about. That complicates everything, but he can't regret having the daughter he quickly falls in love with. The question was—did that mean the end of his chances with Renie?
At her age, asking her to become an instant mother would be selfish, even if she would entertain that absurd idea after her own mother was tied down around the same age. As much as Billy knew letting Renie go was the right thing to do, he also realized letting her go would mean allowing her to run right back into the arms of a man she didn't belong with…and he didn't think he could do that.
This is book can be read as a standalone with no cliffhanger.
Available From
---
About Heather Slade
My books are filled with things that bring me joy: music, wine, skiing, families, artists, and cowboys. Not always in that order.
I'm an Amazon best-selling author, and a PAN member of Romance Writers of America. I speak, teach, blog, am an executive sommelier, and all-around entrepreneur.
I grew up an east coast girl, and then spent half my life on the west coast. Now my husband, our two boys, and I happily call Colorado home.
Find Heather Slade Online
Hosted by: