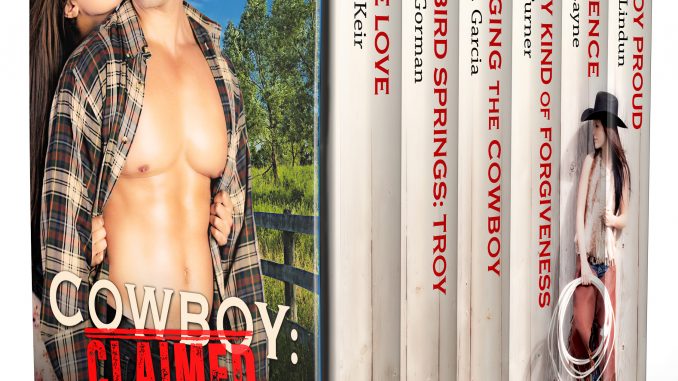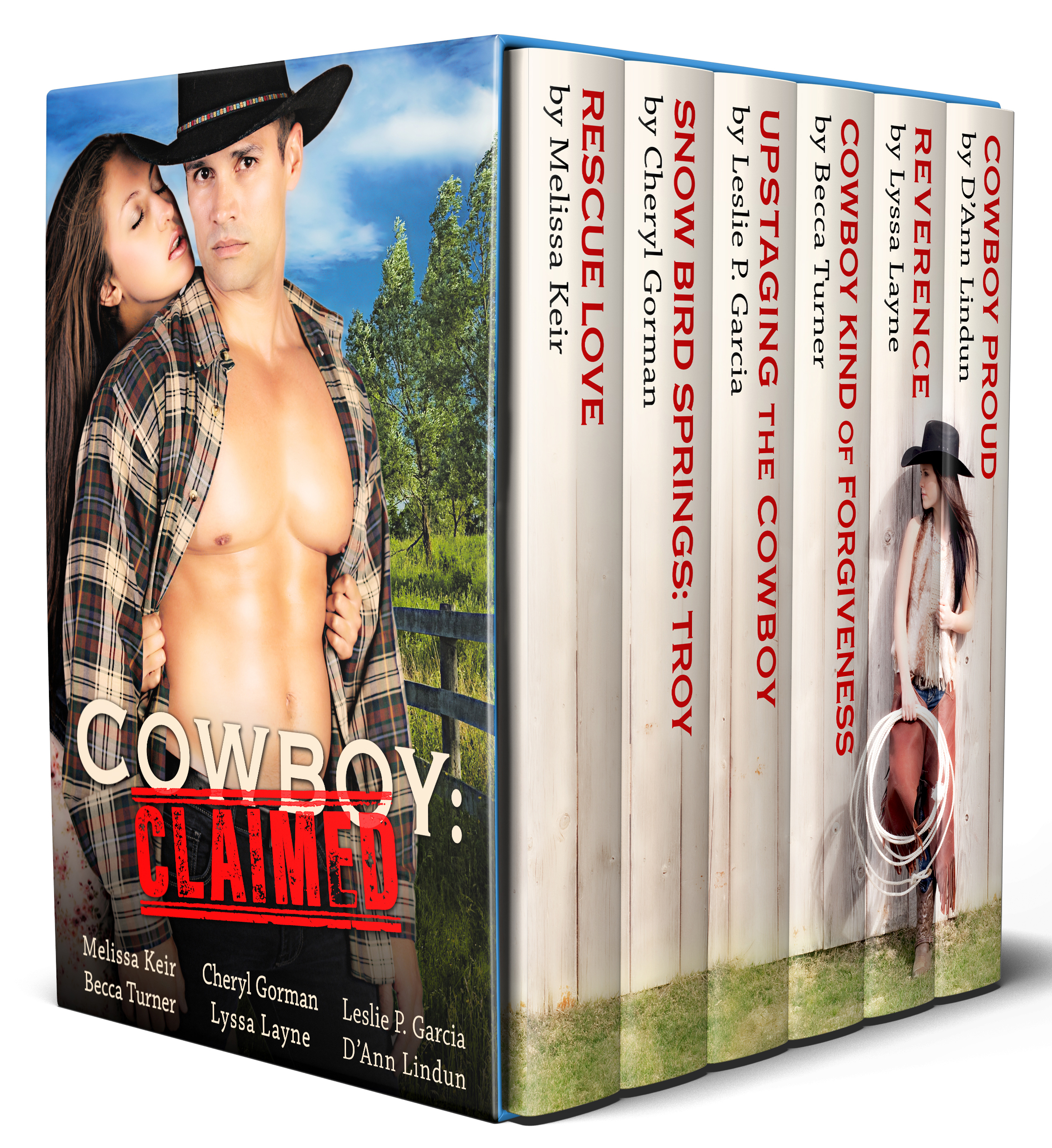 Cowboy claimes
Romance - Contemperance
Epub
~ ♥ ~ ♥ ~ ♥ ~ ♥ ~ BOOK SPOTLIGHT ~ ♥ ~ ♥ ~ ♥ ~ ♥ ~
Cowboy: Claimed by Melissa Keir- Sizzling Small Town Romance Author, Cheryl Gorman, Leslie P. Garcia, Author, Lyssa Layne, Becca Austin-Turner, D'Ann Lindun Author
BUY NOW – https://amzn.to/2DB8pWS
#CowboyClaimed #BoxSet #Romance
Hosted by Itsy Bitsy Book Bits
Genre – Contemporary Western Romance
Page Count – 445
Cover Designer – Kim Killion
Goodreads – https://www.goodreads.com/book/show/41443540-cowboy
Cowboys-Rugged, Gentlemanly, Charming. When you fall in love with one, no one else will do until you can make him yours. Cowboy, Claimed by your heart!
Rescue Love by Melissa Keir
Dogs, Danger, and a Cross-Country Trip….
Nothing has gone easy in Alexis Bandit's life. On a trip to rescue mistreated puppies and drive them to their forever homes, she meets up with a tuxedo-clad cowboy on the run and offers him a ride.
Jason Fields thought he had it all—a beautiful fiancée, a loving family, and great job—until he overheard his future father-in-law talk about arranging his murder. Now he's on the run, without money, a phone, or a credit card.
With a killer on their tail, four mischievous pups, and many miles of highway, what could go wrong?
Snow Bird Springs: TROY by Cheryl Gorman
Artist Alexandra "Alex" Kent has lost her creative mojo and is desperate to get it back. Upon learning of the legend of Snow Bird Springs, Colorado, she arrives in town ready to do whatever is needed to find it again. The legend demands she sacrifice something of value in exchange for having her wish granted. But her most valued possession is her wounded heart, and she vows never to give it away again.
There is nothing Troy Slade loves more than ranching except maybe women as long as they aren't interested in any long-term commitments. He has seen firsthand how love can tear a man's life apart. But when he meets Alex, she touches a nerve he doesn't want touched and makes him long for a family of his own. Because of his background, he doesn't believe he is good enough. Can Alex sacrifice her heart for Troy's love? Will Troy sacrifice the belief he isn't good enough for Alex's love and the family he has always wanted?
UPSTAGING THE COWBOY by Leslie P. Garcia
Can a former Marine and a Hollywood diva facing apocalyptic changes in their lives salvage new beginnings together?
When Stone Winters joined the Marines, he always meant to come home. A woman's impossible dream kept him away so long that he doesn't think there's anything left—especially not when he meets Price Adams, a film star with another impossible dream. He just doesn't think he's up for that again.
Price Adams traded in a childhood on her grandparents' ranch for Hollywood glitz in spite of being a teenage mother. Torn between the stardom she won and full-time custody of her daughter, she accepts one last role—in Cowboy Apocalypse, an inane movie about zombies being filmed on ranches around deep south Texas. Burned by men more times than she can remember, Price doesn't want a man in her life—especially not one who looks down on her career and the courage she needs to let it all go.
COWBOY KIND OF FORGIVENESS by Becca Turner
For many, Christmas is a joyous time of year meant for families and friends to gather near. For Everly Thibodaux, it's a time of tragedy and heartbreak. Her twin brother died before the holiday in a freak accident, leaving her alone and empty. Her brother's best friend, the man she carried strong feelings for, witnessed the event that shattered both their worlds. All her anger falls on him for destroying her life.
Swift Scott's life crumbled until he fell into a bottle to drown the pain of losing a friend and the misery he caused for the woman he loved. After two years of self-destruction, he pulls himself together and moves back to Swells, hoping for reconciliation and forgiveness from Everly. Except that Everly, like him, is stuck in a well of heartache and grief. He knows he can't force her to love him or even tolerate his presence, but he'd settle for seeing her smile again, no matter the cost.
In a small town like Swells, they can't avoid each other forever and circumstances draw them together once more. As the one person who truly understands her heartbreak, Swift can be the only man who helps Everly learn to love again.
REVERENCE by Lyssa Layne
Fresh out of college with a broken heart, Dax Lindsley is trying to find his path. When his brother, guitarist for the popular band Heart of the South, invites him to tag along on a quick vacation, he welcomes the opportunity to escape reality and clear his mind. What he finds is Stella Lindemann hiding from her own reality? The two have more in common than they realize but will they give each other a chance to figure that out?
COWBOY Proud by D'Ann Lindun
All Madeline Harper ever wanted was to escape the tight fences of Black Mountain, Colorado. Nothing would stop her from pursuing her goals–not a devoted boyfriend, or infant son. For the last five years Shan Ellis' life has consisted of being a dad. He sacrificed everything for his son. College. A career. Girls. Now, the one woman he can't forget is back in town. Can they overcome the mistakes of the past and find love again?