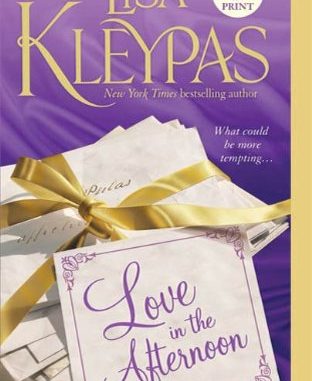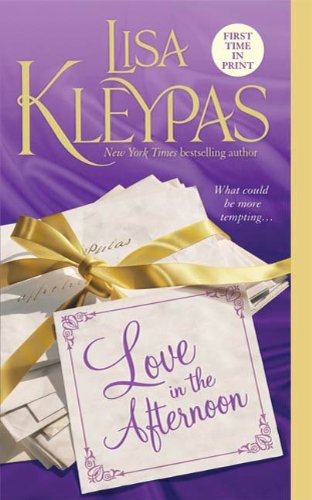 Love in the Afternoon (Hathaway nr. 5)
Hathaway
Romantik - Historisk - Erotisk
Little Brown Book Group
02.12.2010
Ebog - Paperback
336

Love in the Afternoon continues the Hathaways series by Victorian romance author Lisa Kleypas.
As a lover of animals and nature, Beatrix Hathaway has always been more comfortable outdoors than in the ballroom. Even though she participated in the London season in the past, the classic beauty and free-spirited Beatrix has never been swept away or seriously courted…and she has resigned herself to the fate of never finding love. Has the time come for the most unconventional of the Hathaway sisters to settle for an ordinary man―just to avoid spinsterhood?
Captain Christopher Phelan is a handsome, daring soldier who plans to marry Beatrix's friend, the vivacious flirt Prudence Mercer, when he returns from fighting abroad. But, as he explains in his letters to Pru, life on the battlefield has darkened his soul―and it's becoming clear that Christopher won't come back as the same man. When Beatrix learns of Pru's disappointment, she decides to help by concocting Pru's letters to Christopher for her. Soon the correspondence between Beatrix and Christopher develops into something fulfilling and deep…and when Christopher comes home, he's determined to claim the woman he loves. What began as Beatrix's innocent deception has resulted in the agony of unfulfilled love―and a passion that can't be denied…
Min vurdering:
Lisa Kleypas roman er absolut dejlig; hun har vævet en vidunderlig og rig historie om kærlighed, og har gjort det med stor dygtighed og dybde. Jeg har været en stor fan af Hathaway klanen og deres historier, men en eller anden grund var aldrig meget interesseret i Beatrixs. Men efter det lille uddrag sidst i Gift ved daggry, så ændrede jeg min tilgang til Beatrix. Min forventning til denne bog havde været næsten uudholdeligt og er absolut ikke endt med en skuffelse!
Det er en passende afslutning på en stor serie.
Plottet er mere alvorligt end jeg troede – da det er Beatrix, baby i familien. Jeg troede, det ville være let at læse den, men bogen er godt og beskrivende skrevet, da karaktererne var veludviklet og det faktum, at jeg blev færdig med at læse bogen på 1 dag attesterer til Lisa Kleypas' evne til, at holde sine læsere tryllebundet. Som med alle de andre helte i Hathaway familien, har Christopher hans tidligere dæmoner at håndtere, men selvfølgelig blev de erobrede med hjælp fra Beatrix (og hendes menageri) inden udgangen af ​​historien!
Deres første scene elskovsscene er afsindigt sjovt udformet, og så fuldstændig Beatrix.
Problemet er dog, at konflikten – der er for lidt af den. Da Hathaways er forudsigeligt uortodokse og ingen større forbehold har overfor Christophers tiltrækning til Beatrix. Hans mor er en mindre baggrundskarakter, hvis udtalelse passende afskaffes for ikke, at genere os. Bogen mangler lidt kant.
Jeg elsker denne serie og Wallflower serien. Absolut anbefalelsesværdige bøger!
Anbefales til personer over 16 år.
Kan købes på engelsk som:
E-bog og paperback
---