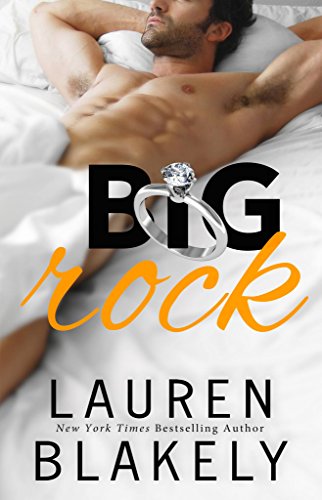 Big Rock
Romantik - Erotisk
Everafter Romance
06.01.2016
Ebog - Paperback
237

It's not just the motion of the ocean, ladies. It's definitely the SIZE of the boat too.
And I've got both firing on all cylinders. In fact, I have ALL the right assets. Looks, brains, my own money, and a big c&$k.
You might think I'm an as%*$le. I sound like one, don't I? I'm hot as sin, rich as heaven, smart as hell and hung like a horse.Guess what? You haven't heard my story before. Sure, I might be a playboy, like the NY gossip rags call me. But I'm the playboy who's actually a great guy. Which makes me one of a kind.
The only trouble is, my dad needs me to cool it for a bit. With conservative investors in town wanting to buy his flagship Fifth Avenue jewelry store, he needs me not only to zip it up, but to look the part of the committed guy. Fine. I can do this for Dad. After all, I've got him to thank for the family jewels. So I ask my best friend and business partner to be my fiancée for the next week. Charlotte's up for it. She has her own reasons for saying yes to wearing this big rock.And pretty soon all this playing pretend in public leads to no pretending whatsoever in the bedroom, because she just can't fake the kind of toe-curling, window-shattering orgasmic cries she makes as I take her to new heights between the sheets.
But I can't seem to fake that I might be feeling something real for her.
What the hell have I gotten myself into with this…big rock?
BIG ROCK is a standalone rom-com written from the guy's POV by NYT Bestselling author Lauren Blakely…
Min vurdering:
Er helt vild med Spencer – den mandlige fortæller. Han får mig til, at smile.
Der er god kemi, sjove bemærkninger og smukke erotiske beskrivelser i bogen.
Personerne bliver beskrevet på en charmerende måde. Man kan leve sig ind i deres tanker og problemer.
Bogen har lige fra første side en fængslende virkning og man kan bare ikke lægge den fra sig igen.
Man skal lige have en side mere.
God handling, flot beskrivelse. En bog, som helt klart kan anbefales.
Bogen kan læses som selvstændig bog, eller som del af en "serie" om vennekredsen.
Dette er den første af serien.
Anbefales til personer over 18 år (grundet erotiske scener).
Kan købes på engelsk som:
E-bog og paperback
---