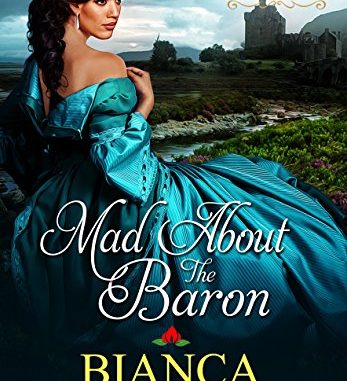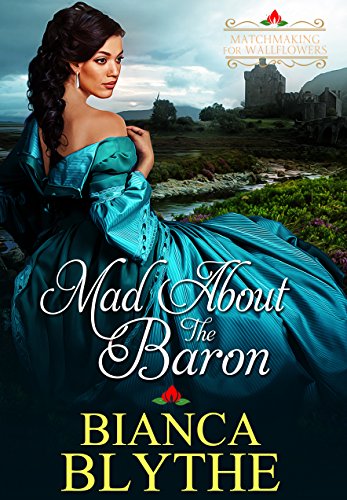 Mad about the Baron
Matchmaking for Wallflowers
Romantik - Historisk
Amazon Digital Services LLC
18.04.2017
Ebog
173

A hopeless romantic...
Veronique Daventry absolutely believes in true love. When the baron she's corresponded with for years over long distance suggests they elope in Scotland, she eagerly assents. Perhaps she's never met him, but she's certain their souls are meant to be joined for eternity.
A notorious rogue...
Lord Miles Worthing is surprised when he is ushered to a chapel on a visit to Scotland and finds a beautiful woman. His happiness halts when her family discovers them in a compromising position.
A mistaken identity...
Veronique is devastated to have mistaken this stranger for her fiancé. She needs to find the correct baron at once, but the only person who can help her is the man who makes her heart race as it absolutely should not.
Min vurdering:
Elskede den!
Jeg elsker bare den måde, hvorpå Bianca Blythe gør sine figurer levende.
I denne bog kommer du igennem alle dine sanser. Smil, vrede, grin, forbløffelse og meget mere.
Du bliver grebet af historien.
Jeg føler, at jeg er der med personerne.
Jeg tror bare, at Miles er så typisk mand. Veronique er en smule naiv, men hun har ikke så meget erfaring på trods af hendes forfatterskab.
Parrets historie og kærlighedseventyr er velskrevet. Måske kunne der have været lidt mere i London. Miles bor der så, hvorfor er han ikke i hans hjem og får nogle penge og tøj?
Veronique tænker meget på hendes arv/herkomst, og måske er lidt for meget tid brugt til hendes tanker om det.
Men jeg var lige nødt til at læse den på en gang, og jeg elskede den!
STJERNER: 4.5
My opinion:
Loved it!
I just love the way Bianca Blythe makes her characters alive.
Here you get through all your senses. Smile, anger, laughing, astonishment and lots more.
You are captivated by the story.
I feel that I am there with the characters. I just think Miles is so typical man. Veronique is a bit naive but she has not that much experience in spite of her writing.
The story and love adventure of the couple is well written. Maybe there could have been a bit more in London. Miles lives there so why is he not in his home and gets some money and clothes? Veronique thinks A LOT about her heritage and maybe a bit too much time is used to her thoughts of that.
But I just had to read it in one go and I loved it!
STARS: 4.5
---